In the picture above are 6 pounds of sweet potatoes in the jar. Six pounds. Can you believe it? When sweet potatoes went on sale for 89 cents for 3 pounds, I had to do something. First I made sweet potato chips, but I wanted to store some of these potatoes for longer term. My freezer is getting rather tight, so it was time to get creative. What can you do with sweet potato powder? Reconstitute the powder into a puree and use it for pie, biscuits, sweet potato casserole, soups or just a a side dish. I made sweet potato/black bean burritos with sweet potato puree. This powder reconstitutes beautifully, and you would never know it was once a powder. It's like a miracle.
A major advantage to turning your sweet potatoes into powder is convenience, and it takes such little space in the cupboard, and none in the freezer. I'm thrilled to have instant sweet potato puree in a snap whenever I need it, making the exact amount I need. To reconstitute, just add 1/4 cup of sweet potato powder to one cup boiling water. You can play with the ratios until you get the consistency you desire. Excited yet? Here's how it's done:
To roast potatoes, preheat oven to 400. Wash potatoes, and poke holes on all sides of potatoes. Roast for about 40 minutes. When the potatoes are done, puree: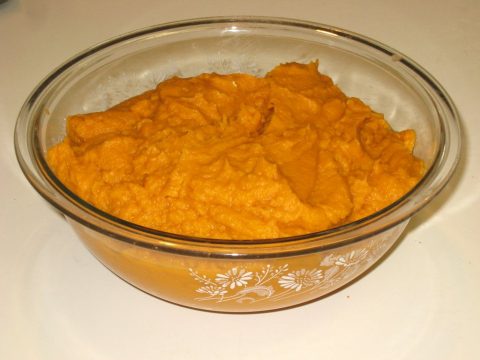 Spread puree evenly on dehydrator sheets:
Dry for about 30 hours at about 135, or until done. Let one of the trays cool and when the sheet of sweet potatoes break, they are done.
Now break into pieces and add to food processor:
Grind into a powder. You will get different consistencies of the powder. It will still reconstitute no mater how big the pieces, put a powder works quicker for reconstituting. Sift sweet potato powder through a sieve and separate the powder from the pieces that won't seem to grid up. I finally ended up putting the hard pieces into a spice blender and it was done very quickly.
After you are done, store in a jar and vacuum seal with a lid attachment
, if you have one. If not, it's fine. I did a little sample to see how it reconstituted and it looked like this:
I love this trick for having sweet potatoes readily available in the kitchen, and the ability to store my bounty in a space efficient way. I can't wait to use these again — they taste great!