I love Mediterranean ingredients, such as olives, feta, artichokes, and roasted bell peppers. Unfortunately, these are not budget-friendly pantry items, but there's a way around the cost. Why should people with all the extra grocery money laying around have all the good food? I solved the cost issue by purchasing all of these ingredients at Costco, except the red bell peppers, because these, I make at home.
I hit the farmers market again recently, and got a 26 pound box of sweet bells for $14. If you aren't a frequent purchaser of sweet bell peppers, you might not know they are about $2 each, so as you can see, I got a great deal. It doesn't pay to make your own roasted bell peppers if you are going to pay full price, but if you can snag a deal, you will save a bundle. Enjoy roasted bell peppers on sandwiches, pizza, in pasta salads, and on an antipasto platter.
Roasted bell peppers are simple to make. Just wash the peppers, and place on a baking sheet.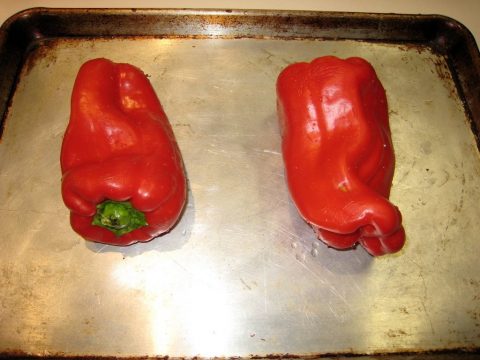 Cook the peppers on broil until the top is blackened. Gently flip the peppers over and blacken the other side. 
After the second side is blackened, place peppers carefully in a brown paper bag. Roll the bag up, and let peppers sit in the bag for about 15 minutes. 
This will make the peppers easy to peel. Do not wait till the peppers have completely cooled – – they peel easily when warm.
If you are roasting just a few peppers, you may decide just to keep them in the fridge plain, or you can also put them in a jar of olive oil with garlic, basil and salt. I do my peppers in large batches, so I flash freeze mine. I use a silicone baking mat
for flash freezing, as the peppers peel right off and there is no chance of them cracking. 
I put my peppers in Food Saver bags and sealed them for future use. 
Now I can enjoy roasted bell peppers all winter long.