It may sound strange, but the issue of sewing is sort of emotional for me. I always wanted to sew ever since I was very young. I used to hand sew little pillows and blankets for my dolls. As I got older, I always wanted to learn how to sew with a machine, so I was excited to take home economics in high school. Unfortunately, the lack of one-on-one attention, and likely shoddy instruction, meant my assigned project to make a shirt didn't end well. Shirts are not a first time project at all. My home economics teacher sent a note home to my mother saying, "Laura will never grow up to be a seamstress." That really discouraged me, hurt my feelings, and made me feel hopeless about ever being able to sew. True, I'm not a perfect seamstress, but with practice, direction from friends, a serger, and a lot of help from my seam ripper, I managed to become much better. This year I made both of my girls' Easter dresses, and I must say the bodices on the dresses look great, and those are not easy. So in my blog, I want to encourage people who do not think they can sew to reconsider, and read what I have to say.
The reason people think they cannot sew is probably because the major pattern companies, such as Simplicity and Butterick, have patterns that are very difficult to understand. Even my friend Paige, who is very skilled at sewing, said she thinks they are difficult. The solution to this problem is boutique patterns. You can find them in specialty sewing shops and on Etsy. I love the E patterns the best because they have lots of up close, color pictures showing every step of the way. I bought an E pattern from a website called Olabelhe, and made the dress pattern (the one with the chocolate bunny) in the picture, with different fabrics. The pictures in the E pattern were awesome, and when I had a couple of questions, the pattern maker got right back with me. Great pattern, great service. I even learned how to hand pleat making this dress. Etsyis a great place to find boutique patterns. I bought a pattern from The Scientific Seamstress, and made a dress for my older girl as well. The Scientific Seamstress gives tons of pictures and instructions. These boutique patterns run a little more than the ones in the fabric store, (assuming you would get the store patterns on sale), but you will save tons of fabric, time, and frustration if you buy a detailed pattern with pictures. And, you will learn more sewing skills along with way. I'm not saying I'll never buy another pattern from the fabric store again, because the better I understand sewing construction and technique, the more guess work I can employ. And, you can get them on sale for 99 cents. But for now, I'm mostly using boutique patterns. Making a simple hand-gathered skirt is a great first apparel project, but if you are totally new to sewing, I suggest making something like a simple placemat.
If you are serious about learning to sew and have the ability to make quick project, you should invest in a serger. The first time I ever heard of one, I was waiting in the preschool pick-up line with my friend Chrissy. Her little daughter prances out in the hall wearing the cutest skirt that was clearly too special to have been purchased. It was comfortable enough to play in, and cute. Chrissy said she made it in a couple of hours.  My mouth dropped, and I wanted to say something, but could not find words. As I sat there speechless, she started laughing and said, "It's the serger." I thought it sounded too complicated to even think about messing with one, and then I went to my friend Paige's house for help on a jumper.  As we were about to do the fold, and pin-iron-fold, then sew thing, she shook her head and said, "This will just be easier with the serger."  I was in awe as I watched Paige literally zip this fabric through the serger, as it trimmed and finished the skirt edge. It was like magic. My mouth flew open and I was speechless once again, and I should point out it's not easy for me to be speechless, and this is twice now. It just saved us a tremendous amount of work. All I had to do was fold it up and stitch a quick hem. And if I didn't want to do that, I could always change the setting and do a rolled hem.
The serger has brought me so much joy, allowing me to complete projects quickly. I am very thankful to my friends Paige, Chrissy, and Katie, for taking time they don't have, to give me advice and show me some tricks. So when a friend of mine at the pool last summer was talking about wanting to find time to sew for her daughters, I told her about the serger and had her over for a demonstration. She bought one, and Emailed me shortly after and thanked me for telling her about the serger, because that morning she made two skirts. I felt happy I could pass on knowledge that was given to me, and soon I'll be having someone over to show them some simple sewing tips. I love the whole "community" thing. In regards to the price of sergers, mine was $200 and is perfect for what I need. Some sergers run in the thousands, but for the home sewist, the $200 Brother serger works great. Plus, part of the point is to save money, and a simple serger is all you need.
So my little sewing adventure did not end there. Paige also had an embroidery machine
. This my friends, is not a sewing necessity, it is pure luxury, and one I enjoy very much. I love my embroidery machine because I can applique and embroider shirts, skirts, towels, bags, and just lots of things.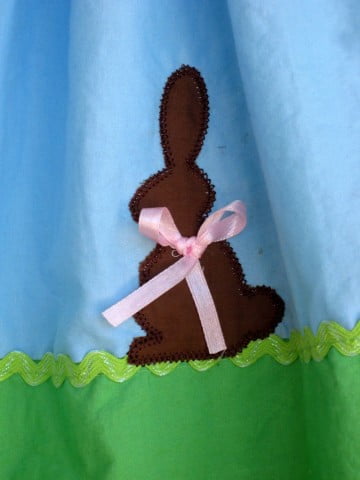 Paige is right in saying it eventually pays for itself, because you can make the cutest baby shower, birthday, and Christmas presents with this machine without spending a lot of money, and most importantly, you get to give a very personalized gift. Plus, you can make your kids really cute clothes. When she showed me this corduroy jumper she made for her daughter with a cartoon turkey on the bodice, I groaned inside wishing I had the ability to do the same thing. I think I turned green right there. Now I can, and it's so fun.
I have the Brother SE400 which also doubles as a very nice sewing machine. It's the most reasonably priced one I could find with the best reviews. You can get this one between $300 – and $365, so if you are in the market for a sewing machine, you might think about investing in this one. If you don't care about embroidery, there are several models of sewing machines
at a good price on Amazon – – just read the reviews carefully.
Word of warning if you get an embroidery machine — you will need to buy software to lay out your designs. I bought on-line software Katie told me about called Embird. I paid $160 to use the software, and I wanted to point this out before you go investing in an embroidery machine. My serger and embroidery machines were my gifts for several holidays, but I never missed not getting a present because I get an immense amount of joy from my machines, and will have them for many, many years. My only regret is just discovering all this now. My girls are 8 and 6, and thinking of all the cute dresses, jumpers, baby blankets, diaper covers, and embroidered things I could have made them sort of eats at me, but better late than never. I just made cute pillows for my older daughter's room, and I also make my girls cute skirts for the summer. I have plans to make all kinds of cute, quick projects for the house that I'll be profiling in this blog — projects that anyone with a sewing machine can make.
If you think you can't sew, really all you need are the right tools, and some practice. After my sewing foot gets out of a cast, I'm going to write a few posts showing the ABC's of novice sewing. In the meantime, start reading reviews on sewing machines, and dream about ways you pretty up your house (and your family) on a dime by sewing!